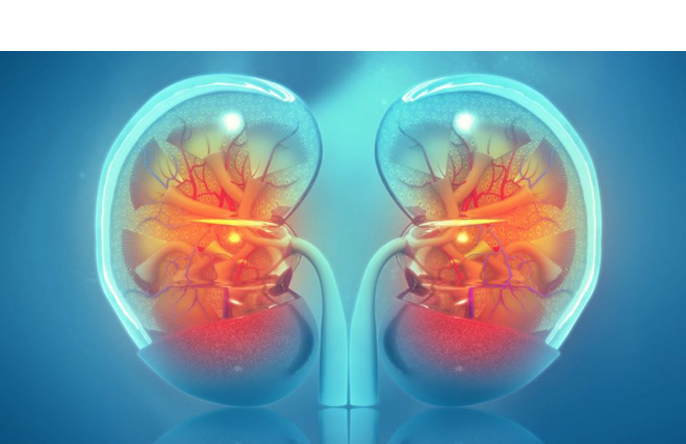 Kidney cancer accounts for 3% of all malignant tumours and its incidence is growing all over the world. This disease occurs twice as often in men as in women; typical patients are men aged over 45; in ladies, the condition occurs after the age of 55 years, and the risk of incidence increases with age. Kidney cancer is a dangerous type of carcinoma due to the fact that visible symptoms may first appear at a late stage of the disease thereby preventing early diagnosis and effective surgical treatment.
Factors increasing the risk of developing
kidney cancer
The causes of kidney cancer can be divided into genetic, hormonal and environmental factors. Other contributing factors include:
prolonged exposure to chemical agents, e.g. asbestos and cadmium
smoking
excessive use of painkillers
hypertension
diet rich in animal protein
obesity (especially in women)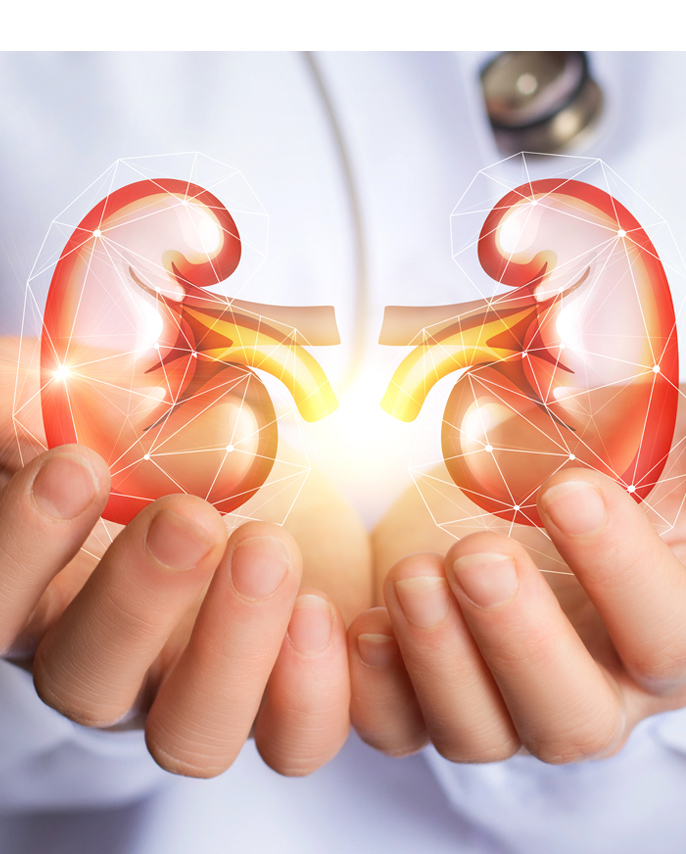 Symptoms of kidney cancer
Kidney cancer is an insidiously developing cancerous disease which causes few symptoms in its early stage. Currently, 80% of kidney cancers are detected by routinely performed ultrasound or while conducting examinations intended to establish reasons for general body weakness, loss of body weight, feverish conditions or recurrent urinary tract infections. Each case of painless haematuria in old age requires diagnostic examination in order to exclude urinary system cancer.
Late symptoms of kidney cancer include:
raised ESR level
raised blood calcium level
weight loss
weakness
lack of appetite
varicose veins of the spermatic cord (in men)
night sweats
palpable tumour in the upper lateral abdomen
stomach ache
pain in the lumbosacral region (appears when the tumour reaches a large size)
swelling of the legs
hypertension
Diagnosing kidney cancer
If there is a suspicion of kidney cancer, the following examinations are performed:
computed tomography or MRI of the abdomen
Treatment of kidney cancer
When the diagnosis of kidney cancer is confirmed, the method of treatment depends, in the first place, on the advancement of the disease and the general condition of the patient. Surgical treatment includes:
open or laparoscopic radical nephrectomy (removal of entire kidney with the tumour)
Robot-assisted radical nephrectomy (removal of entire kidney with the tumour)
open or laparoscopic partial nephrectomy (resection of the tumour with a margin of normal renal parenchyma)
Robot-assisted partial nephrectomy (resection of the tumour with a margin of normal renal parenchyma)
palliative nephrectomy (removal of kidney in patients with advanced cancer and suffering from severe pain)
Other methods used in treatment of kidney cancer include:
Thermal ablation and cryoablation – technique in which cancer cells are destroyed with high or low temperature
Systemic targeted therapy in metastatic kidney cancer