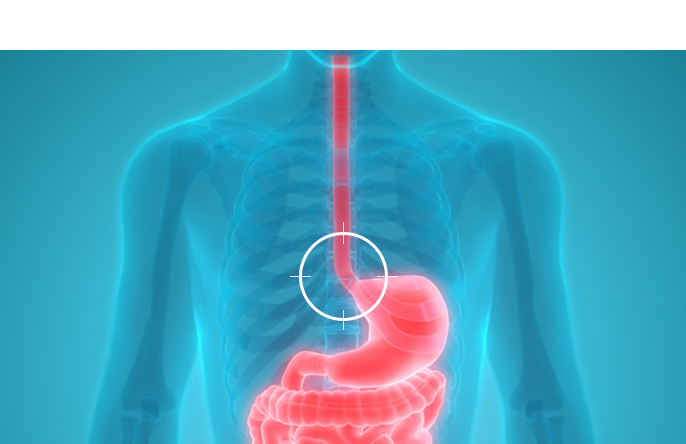 Hiatal hernia is one of gastrointestinal disorders. It is caused by a malfunction of the diaphragm, i.e. a partition which separates the thoracic cavity from the abdominal cavity. When the diaphragm is weakened, part of the stomach moves up from the abdominal cavity into the chest through the oesophageal hiatus. There are three types of hiatal hernia, i.e. sliding, paraesophageal or mixed. The condition can be either congenital, as a result of congenital oesophageal anomalies, or acquired, above all due to an increase in abdominal pressure.
FACTORS INCREASING THE RISK OF INCIDENCE
FACTORS INCREASING THE RISK OF INCIDENCE
Hiatal hernia occurs more frequently in women than men and the onset is usually after the fourth decade of life. The following may also promote the onset:
Pregnancy
Obesity
increased pressure within the abdomen, e.g. as a result of lifting heavy objects, chronic coughing or vomiting as well as excessive muscle tension during defecation
Smoking
Incorrect diet in which frequent consumption of large meals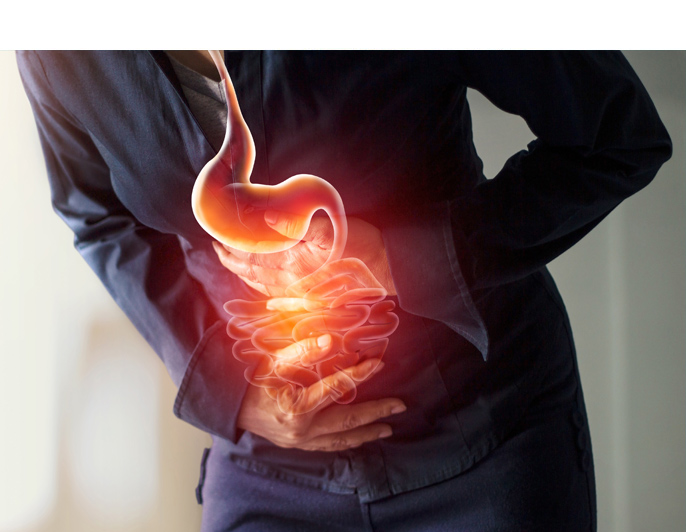 SYMPTOMS OF HIATAL HERNIA
Hiatal hernia may be asymptomatic. The most common symptoms include:
Heartburn
Belching (even on an empty stomach)
Vomiting
Difficulty swallowing or feeling of food sticking in the gullet
Upper abdominal pains and pains below the heart (often identified with coronary disease)
Morning hoarseness caused by irritation of the vocal cords by stomach contents
Dry coughing and breathing with a whistling sound
Sweating
Another characteristic of this condition is the fact that in most cases the symptoms are intensified after heavy meals and when lying down, and the symptoms often resemble other conditions including those related to coronary disease.
HIATAL HERNIA DIAGNOSIS
A main diagnosis of hiatal hernia is made by taking a chest X-ray in the so-called Trendelenburg position, i.e. with the head and the upper part of the chest lower than the feet). The examination is performed following oral administration of a radiocontrast agent (barium sulphate).
The doctor may also prescribe additional examinations, such as gastroscopy, computed tomography of the chest, oesophageal manometry, i.e. a test that measures pressure in the oesophagus, or stress ECG.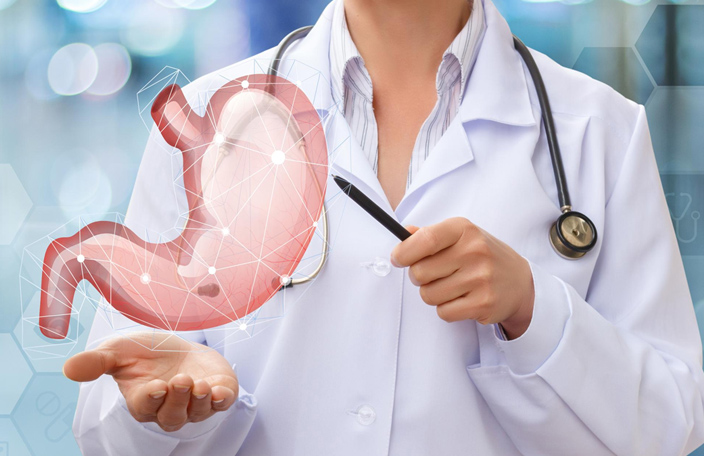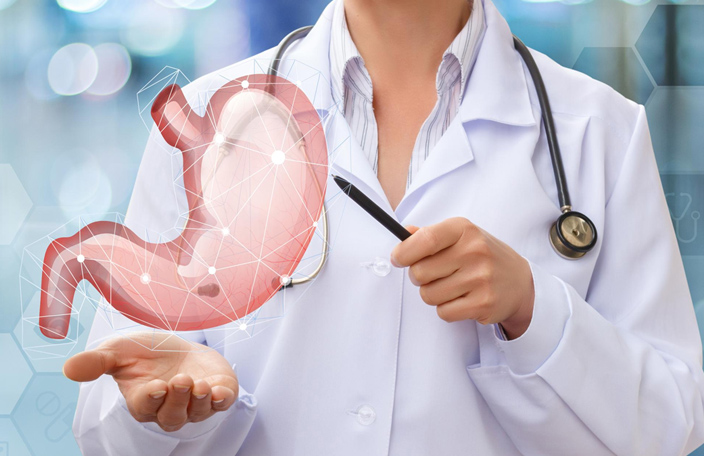 SURGICAL TREATMENT OF HIATAL HERNIA
Surgical procedures are used as a treatment method in advanced cases of this condition. Hiatal hernia surgery can be performed by the traditional method, laparoscopically or using the da Vinci surgical support system. The main aim of the procedure is to alleviate the symptoms accompanying the disease and to prevent any possible complications. The procedure consists in stabilising the stomach within the abdominal cavity or strengthening the ring of muscle around the bottom part of the oesophagus. The procedure is particularly recommended in people with gastric reflux confirmed by a gastroscopic examination, manometry and pH-metry who fail to respond to conservative treatment.