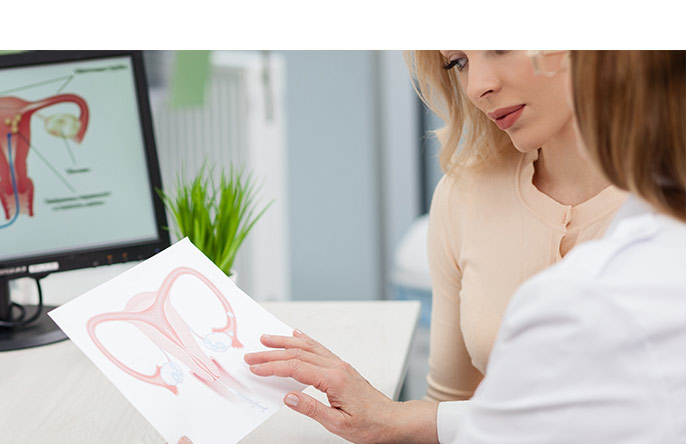 Ovarian cancer is one of the most insidious cancers – it lurks in hiding, often without any symptoms. But as a matter of fact, it is the second most common cancer of female genital organs in Poland; approx. 3,500 Polish women are diagnosed with it each year. This cancer occurs in women of all ages but most commonly between 40 and 70 years of age but highest incidence rate is in the age group 50-60. The ovary is made up of different types of cells that have different roles. Unfortunately, cancer can develop from each of these types of cells, i.e. epithelial, granulosa or follicular cells.
Types of ovarian cancer
There are two types of ovarian cancer which differ with regard to the cause, type of growth and prognosis:
Type 1 – less common, easier to detect, with better prognosis due to the fact that it can be detected in the 1st or 2nd stage of development. It is a clear cell ovarian tumour (mucous or endometrial) that develops from benign ovarian tumours or tumours with limited malignancy
Type 2 – more common, more difficult to detect and above all, with worse prognosis, i.e. a serous carcinoma. It is usually detected first in the 3rd or 4th degree of advancement when the disease might have already affected all the neighbouring organs in the abdominal cavity, such as the liver or intestines, which lessens the chance of a cure
Factors increasing the risk of developing ovarian cancer
age – the incidence rate for ovarian cancer increases with age and the highest rate is in the age group 60-70
hereditary ovarian and breast cancer syndrome and hereditary ovarian cancer syndrome
BRCA1 and BRCA2 mutation carrier status
Lynch syndrome (genetic condition associated with a high risk of developing various cancers)
fertility treatment with ovulation induction (stimulation of ovulation by medication)
childlessness
normal and incessant ovulation (not affected by e.g. due to pregnancy or contraception)
incorrect diet rich in milk, butter, eggs and plant and animal fats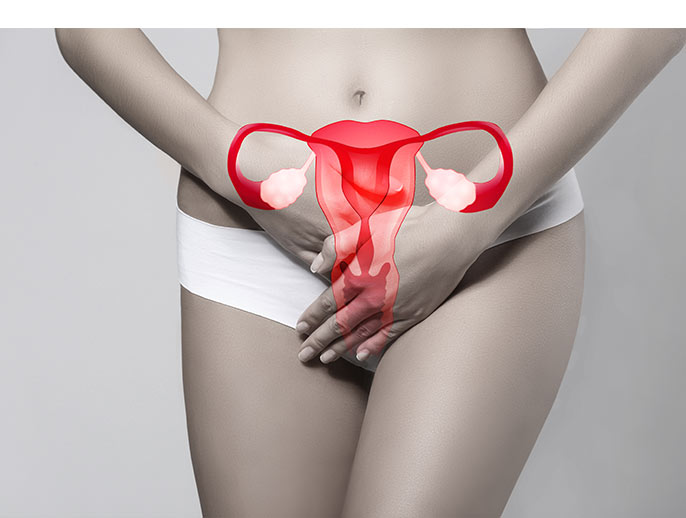 Symptoms of ovarian cancer
There are no characteristic symptoms associated with ovarian cancer, which means that the condition is often diagnosed too late. Nevertheless, in most following non-specific symptoms are observed in most patients:
lower abdominal pain unrelated to menstruation or ovulation
feeling constantly bloated
menstrual disorders
ascites
increasing abdominal girth unrelated to weight gain
urinary urgency
swelling of the legs
constipation
sensation of abdominal fullness
vaginal bleeding (in the advance stage of the disease)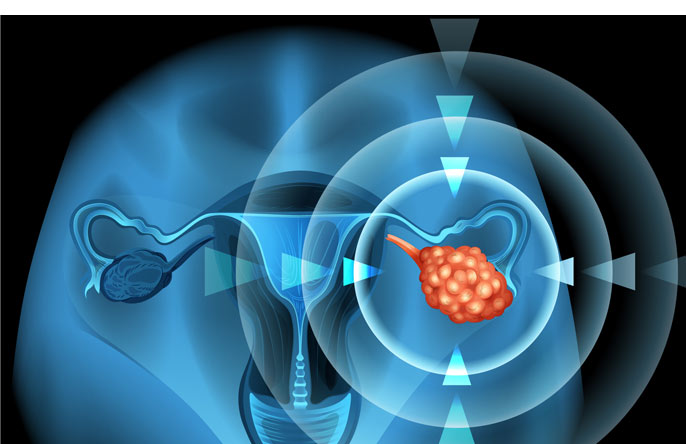 Diagnosing ovarian cancer
Ovarian cancer is difficult to detect when the tumour is small; the most useful examinations that facilitate early diagnosis include first of all:
transvaginal and transrectal gynaecological examination
transvaginal ultrasound
abdominal ultrasound
serum CA 125 measurement / Risk of Ovarian Malignancy Algorithm (ROMA)
laparoscopic exploration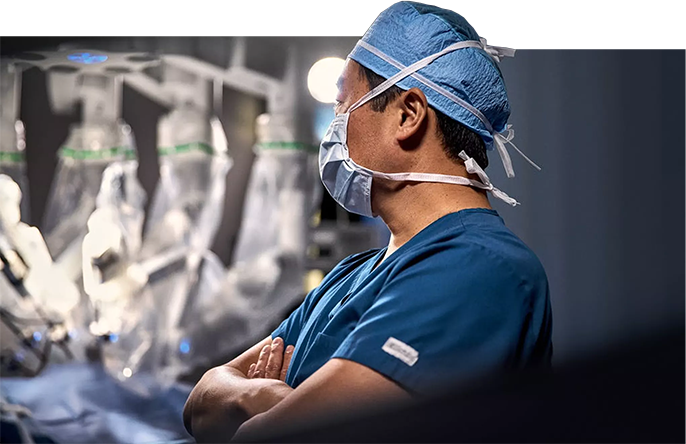 Surgical treatment of ovarian cancer
The most common method of treatment of ovarian cancer is surgical treatment. The purpose of the procedure is to remove the reproductive organ together with the nymph nodes, the appendix and metastatic foci. This type of surgery is called cytoreduction. At present, the surgery can be performed by the classic method. In the non-advanced stage (stage I), laparoscopic surgery is also possible, also using the da Vinci robot. The detailed schedule of treatment of ovarian cancer actually depends on the histopathological diagnosis which is made using material collected during the surgery. On this basis, the doctor may decide to supplement the original surgery with chemotherapy.